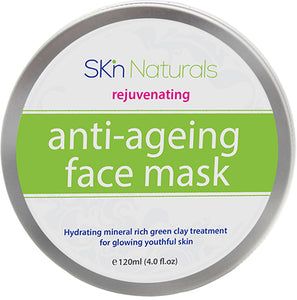 Want a FAST NATURAL FACELIFT that lasts for more than 7 days? Say goodbye to grey, tired skin and hello to YOUNGER LOOKING SKIN with our ALL-NATURAL COLLAGEN Green Clay Face Mask.
HYDRATE DRY SKIN THIS SUMMER with our GREAT VALUE facial mask giving you up to 25 MASKS PER JAR. Blended with age-defying natural minerals, our amazing multi-mask cleanses, detoxifies, exfoliates and moisturises, giving you a bright, uplifted youthful complexion.
A FACE SPA in a JAR that's NON-ALLERGENIC AND NON-IRRITATING; our mask doesn't contain any nasty Parabens, Pthlates, Petrochemicals and is Not Tested on Animals. Forget forking out on expensive spa facials; our face mask will become your favourite bathroom staple. Relax on a spa night in or just before a night out.
NO-FUSS, EASY APPLICATION mask that DOESN'T STING, DRY OUT, CRACK or SLIDE when applied on your skin like mud masks. Slather on our silky, super-fine, smooth textured clay mask and feel how it deliciously glides onto your skin and stays put during use. Time to throw out your DIY face mask!
LOOK YOUTHFUL AND RADIANT in minutes every week! In fact we are just so confident that you'll love our natural green clay mask, that we offer you a 6 month 100% satisfaction guarantee in addition to Amazon's 30 day money back guarantee. If for any reason you're not completely satisfied with our facial mask or service, simply contact us and we'll aim to make it right.
Open pores
So far I have noticed the open paws on my face are reducing. I have only used it for two weeks. (Twice a week) so therefore I have only given four stars. I hope it continues to work. So far so good. It's the best face mask I have used.
Does decrease fine lines for the evening.. It's a excellent product..But don't expect miracles.
Have tried many different sorts of clay masks from cheap to medium range I.e biotherm wonder mud.. and I found this one a little better decreasing the fine lines and for more than half the price.. Biotherm has a better smell and feel after ,only because it has fine crystals to exfoliate. I just exfoliate before putting it on.So all in all I found this to be an excellent product for me .. p.s personally I only put less than half as much as the picture . (Have purchased this item twice now) so this is Not free sample reviews.
Does jack.
Been using it for some time not and it don't do anything. Left it so long to review as the other reviews were so positive, I can only imagine they were Testers of a free product. Skin soft yes but no difference to any lines wrinkles or skin tone, think the other reviewers must have been testing a different product duct.
Good in first week
Only had this one week, however it seems to be really good. It moisturizes very well and only takes ten minutes.
Great face mask
I love this mask it leaves my skin looking and feeling lovely.